Small Kitchen, Big Ideas: A User Manual To Arrange Your Small Kitchen
I LOVE organizing things like closet systems, desk organizers, storage tag bins. I feel content and calm when it comes to tidying up.
Other than that, my favorite place inside the house is the kitchen. I always find my peace of mind whenever I am in the kitchen.
Whether I'm cooking tasty food, baking, or just enjoying myself there (I mean ORGANIZING).
I'm so happy to show you my cabinets and drawers so you can see all the reasons why.
1. Turn One Shelf Into Two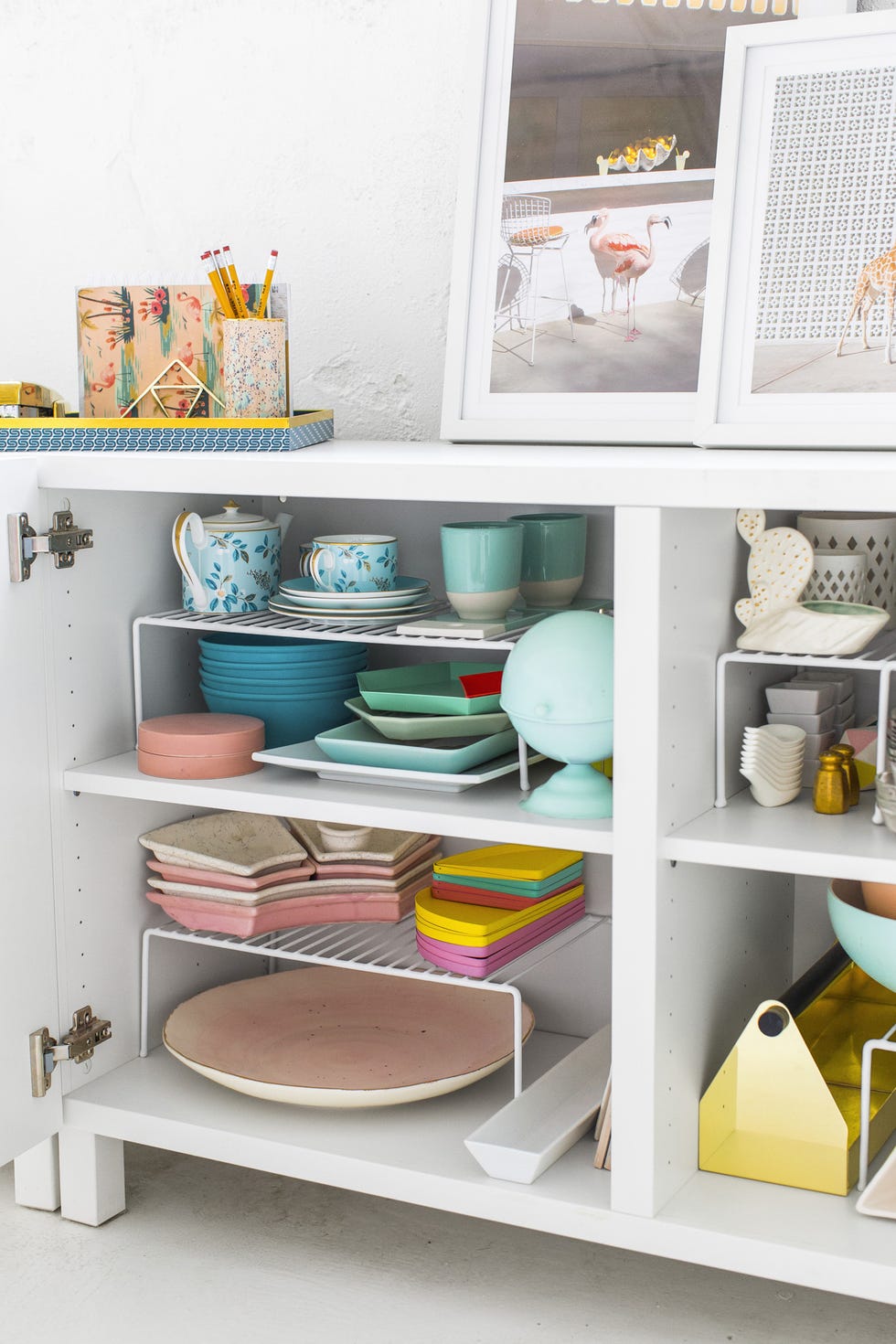 With wire shelf risers, you can multiply vertical storage space, giving you even more room to store all of your dishwares.
See? Just because you're short on space doesn't mean you have to compromise your love of mugs, dishes, and cute bowls.
2. Get Grocery Inspired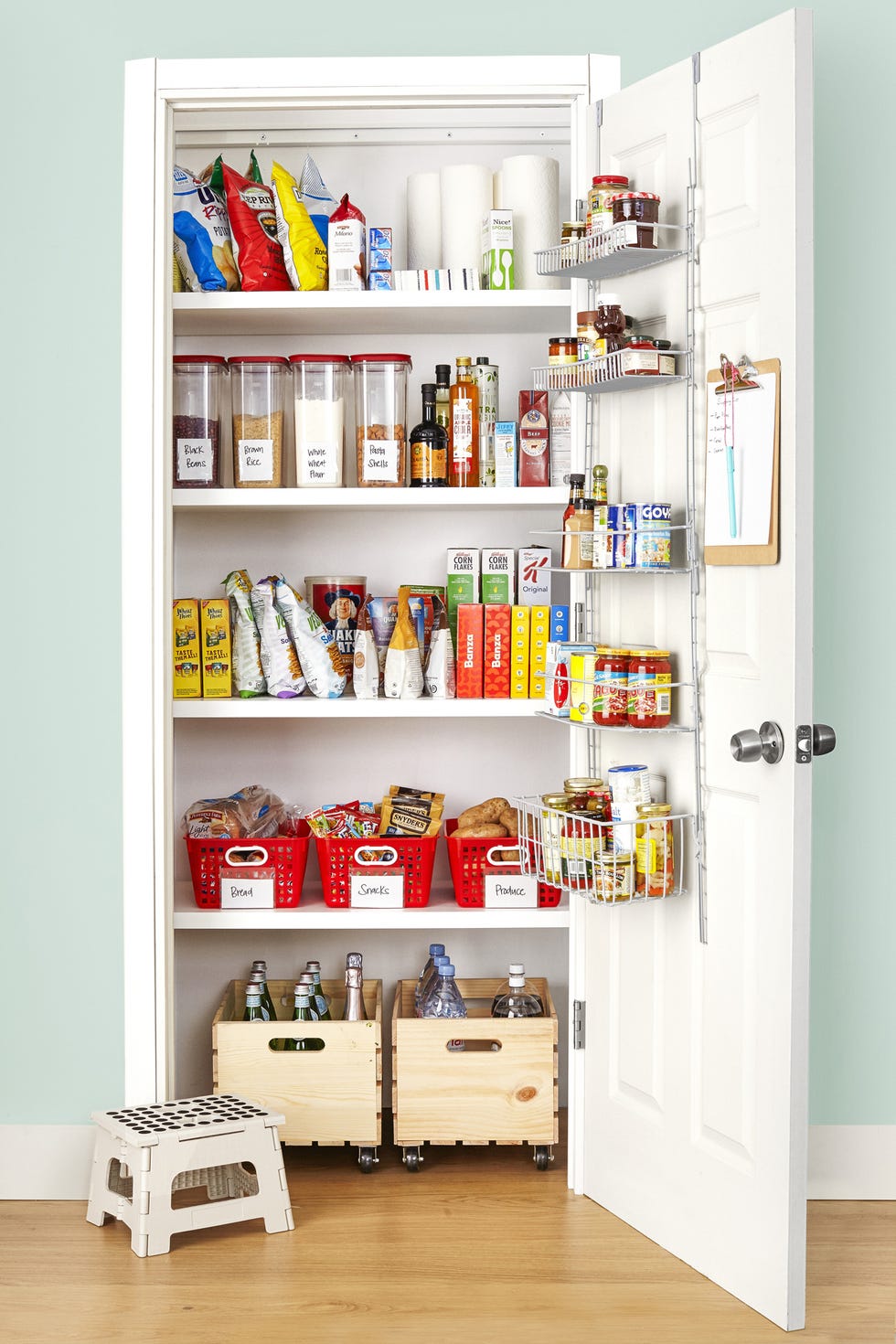 Give your pantry a supermarket makeover by following the "first in, first out" rule.
Basically, put the newest boxes and containers behind what's already open. Keep things organized with bins, labels, and clear Tupperware.
3. Add "Drawers" to Deep Cabinet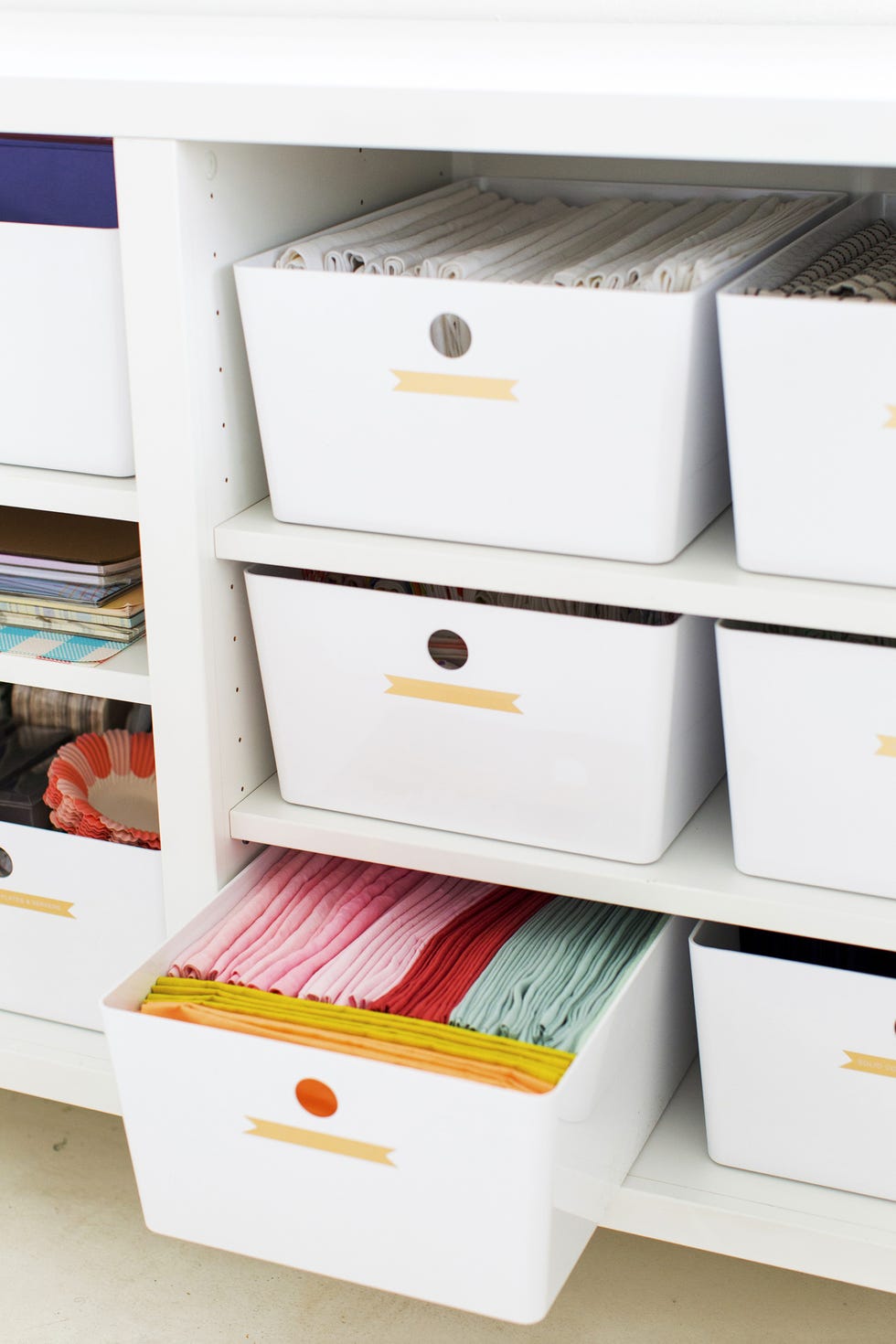 Store your table linens — placemats, cloth napkins, or even the table runner you only use on Christmas — in durable plastic pins. The best part? They pull out so you won't have to dig for anything on the way back.
4. Store Pans Sideways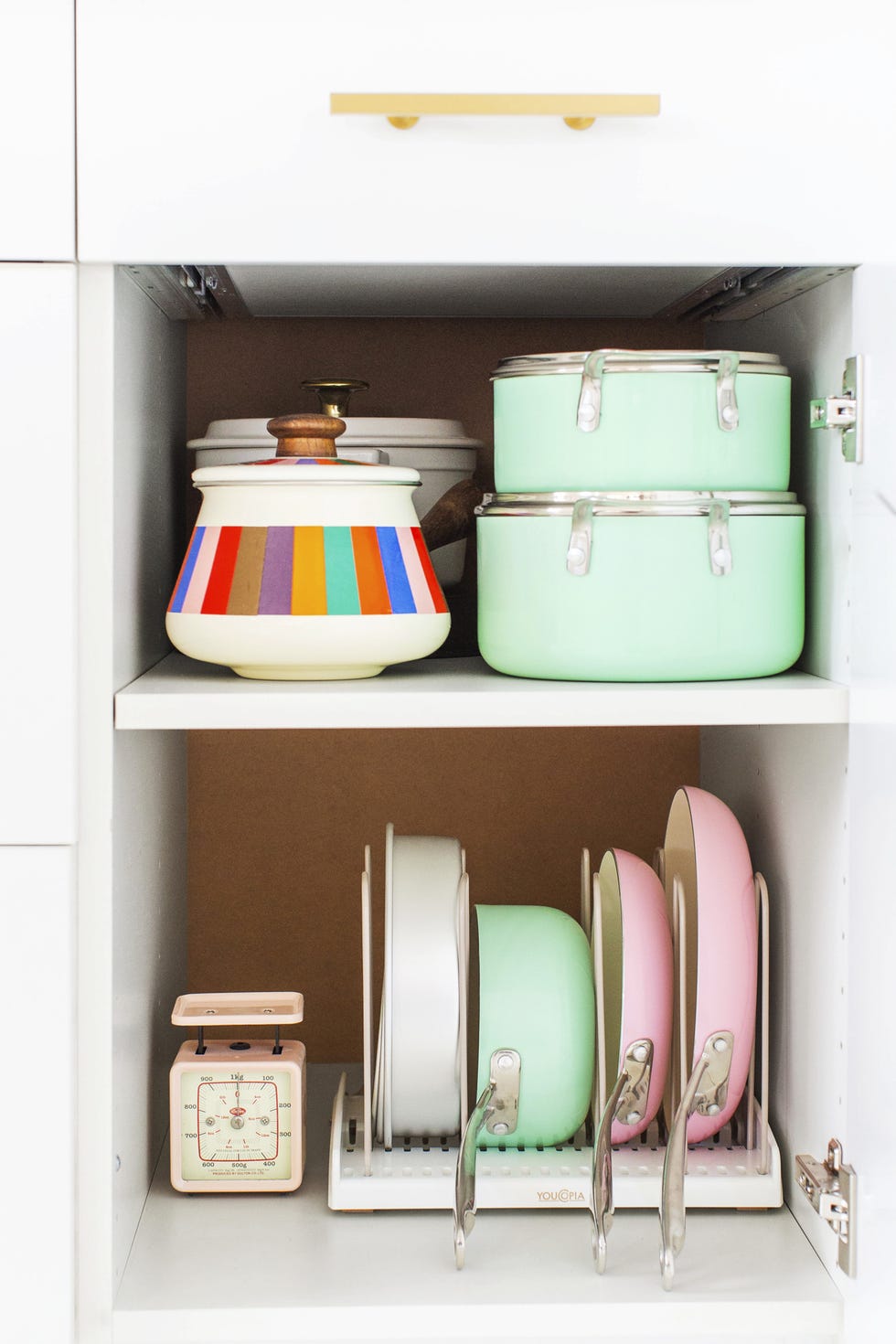 It seems like no matter how hard we try to keep our pots and pans organized, they're always a jumbled — and noisy — mess.
Stack pans, cutting boards, lids, and baking sheets horizontally to limit any future frustration.
5. Ditch Countertop Produce Bowls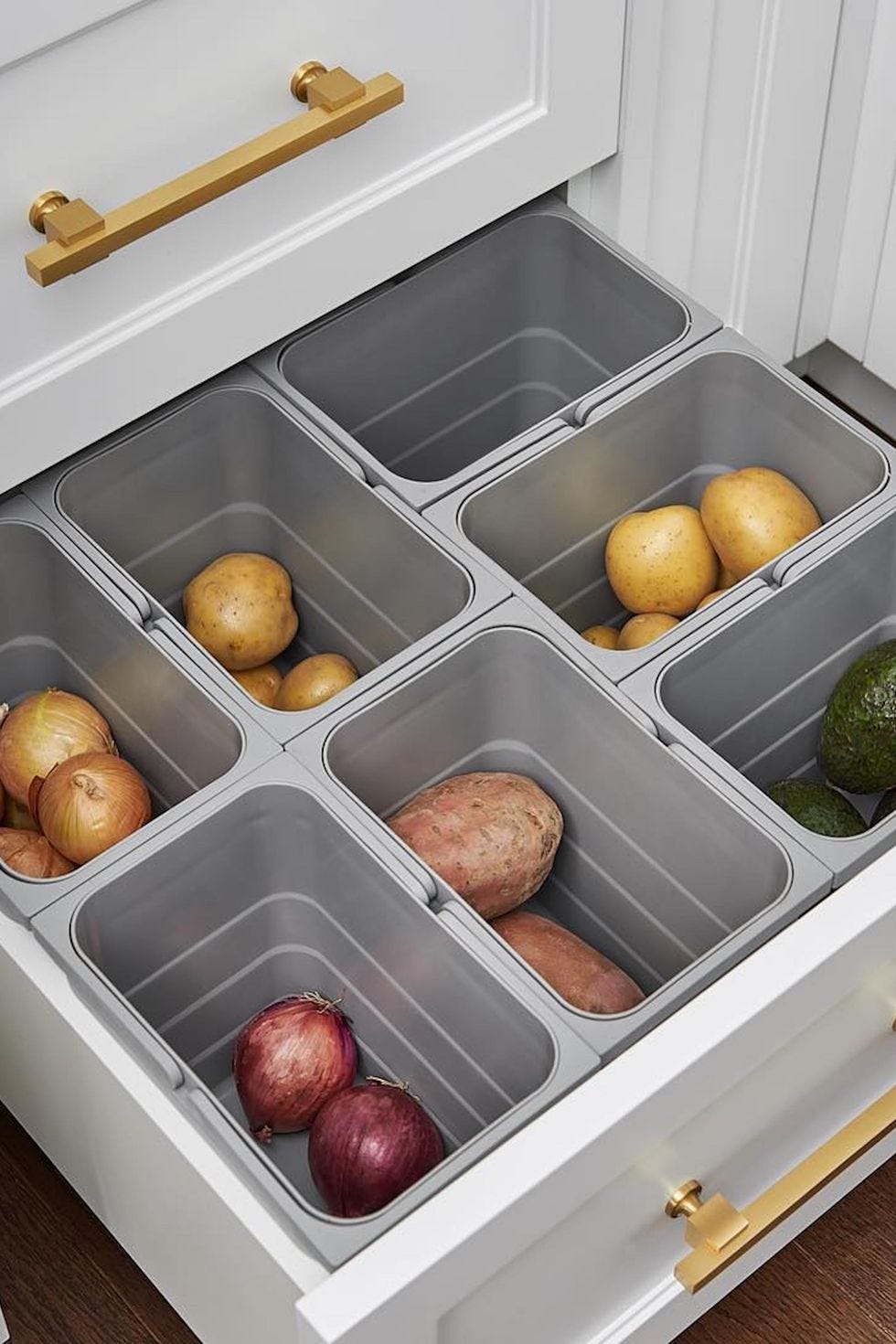 Pack a deep drawer full of removable bins (like in this custom cabinet from Watchtower Interiors).
If you use them to sort produce that doesn't need to be refrigerated, you'll never lose precious counter space to a fruit or veggie bowl again.
6. Group by Color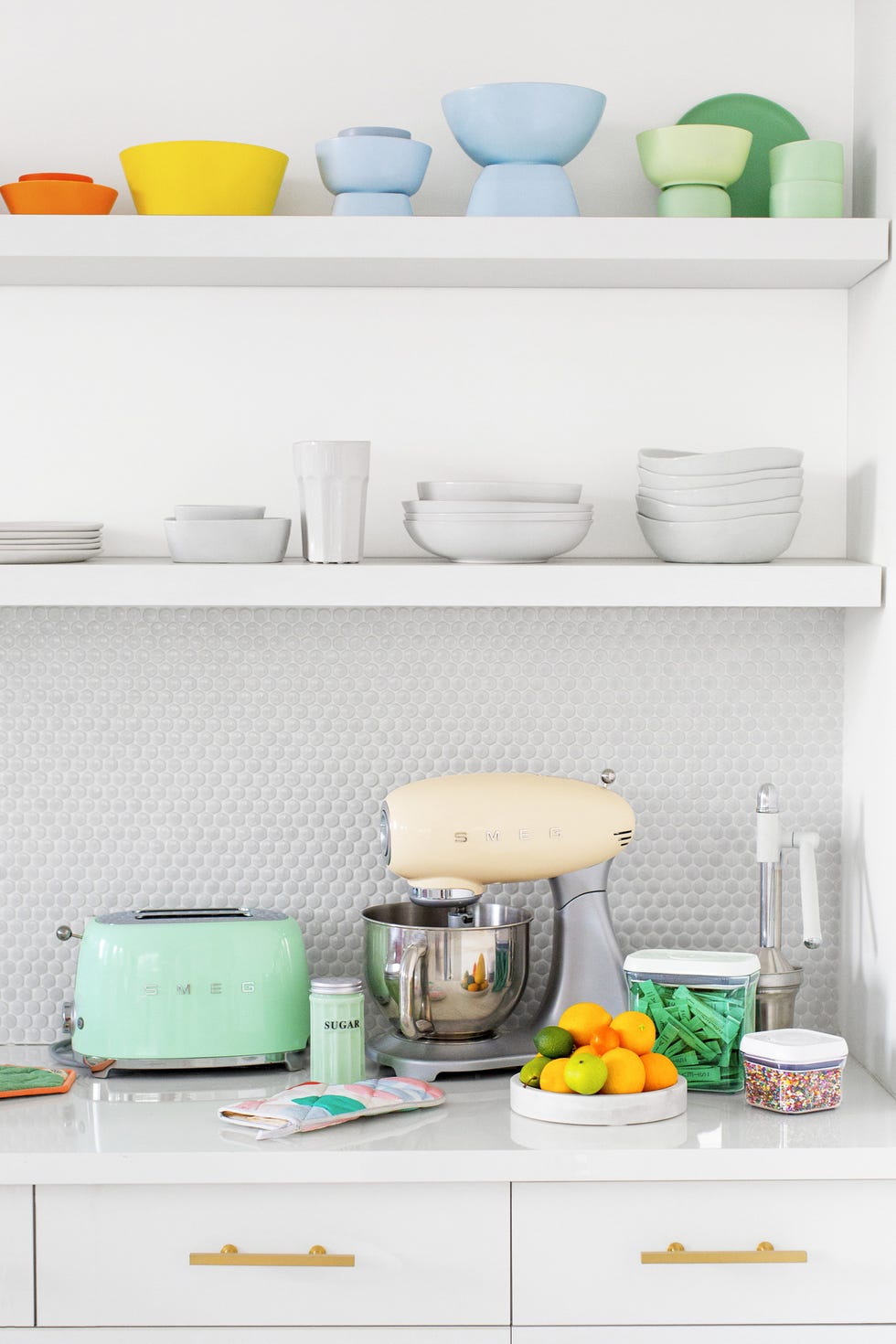 You color-coordinate your clothes, so why wouldn't you carry that organizing style throughout the room in your house that you use most?
Exactly!
Color coding lets you reap the benefits of open shelving (flexibility) without the downside (visible clutter).
Somehow, the key to a lovely and dainty kitchen is on how you arrange it.
To give you access to everything you use every day, arrange and organize your drawers. 
You can also upgrade your kitchen easily by cleaning up your worktops.
Speaking of tools, does this situation sound familiar to you? You have tons of heavy kitchen equipment and you have a problem (or some) on how to organize your equipment.
Or maybe, sometimes without thinking any further you place your coffee maker in this kind of position:
Do you always have to deal with moving heavy machinery in your kitchen when you need to use it?
I believe it slowly becomes a pain in the ass, right? Seeing that some people, especially women find it hard to move heavy things.

Even if you are too lazy to move your coffee maker and you want it to be placed as it is, when the machine starts heating the coffee, the smoke that comes out of coffee maker will damage your kitchen cabinet gradually.
You surely don't want to harm your $2000 kitchen cabinet, right?
Why don't you try this tool? It will put your kitchen life at ease.
Are you ready to say goodbye to all your complaints?
NO MORE "It's heavy, my lazy ass don't wanna move it!" or
"I'm terrified this smoke will damage my precious kitchen cabinet!"
This sliding tray would totally save your life in the kitchen.
Your best pal to have awesome assistance in the kitchen!
Sometimes, we only need a hand to help us do our kitchen activity, especially when it comes to moving or organizing our appliances.
Now that you consume some useful information and you start processing and possibly thinking, "Why should I buy this product? How will this benefit me in the future?"
To convince you more, there are some points that I'm gonna emphasize:
It's reliable to hold assorted appliances and fit under cabinets or upon countertops.

Utterly effortless. The slide is functioning so well and glide smoothly

Safe to the dishwasher and clean it easy
Our coffee pot mat eases your burdens with up to 25 lbs of all kinds of cookware.
I'll tell ya, this is one of the best-selling and most-wanted products in Amazon.
The good news is, this product is on sale right now!!
You can get it for only $12.99
Hurry and grab yours now! There's no time to lose!